Lost Highway – The Concert (DVD oraz CD)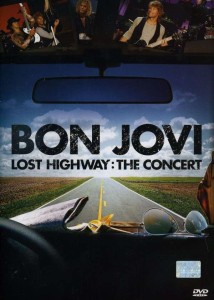 Data wydania: 13 listopada 2007 r.
LOST HIGHWAY: THE CONCERT to wydawnictwo zawierające zapis koncertu z 30 lipca 2007 r. w Chicago, gdzie zespół zagrał wszystkie piosenki z płyty "Lost Highway" oraz dodatkowo "It's My Life", "Wanted Dead Or Alive" oraz "Who Says You Can't Go Home". Koncert nagrano w HD z dźwiękiem 5.1 Dolby Surround w formacie 16:9. Sam koncert trwa 84 minuty.
Jest to czwarte oficjalne wydawnictwo z zapisem koncertu Bon Jovi "na żywo". Lost Highway: The Concert jest o tyle warte uwagi, że zespół po raz pierwszy w swojej historii zdecydował się zaprezentować na żywo wszystkie piosenki z jednego albumu w kolejności dokładnie odwzorowującej tracklistę materiału CD.
Tracklista DVD:
1. Lost Highway
2. Summertime
3. (You Want To) Make A Memory
4. Whole Lot Of Leavin
5. We Got It Going On
6. Any Other Day
7. Seat Next To You
8. Everybody's Broken
9. Till We Ain't Strangers Anymore
10. The Last Night
11. One Step Closer
12. I Love This Town
13. It's My Life
14. Wanted Dead Or Alive
15. Who Says You Can't Go Home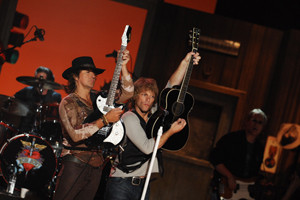 Dodatkowo na płycie można znaleźć nagrania "Clear Channel Stripped". Jest to zapis piosenek nagranych na żywo w studio bez publiczności.
Tracklista:
1. (You Want To) Make A Memory
2. Lost Highway
3. Wanted Dead Or Alive
4. Who Say's You Can't Go Home
5. Whole Lot Of Leavin'
6. Hallelujah (cover Leonarda Cohena)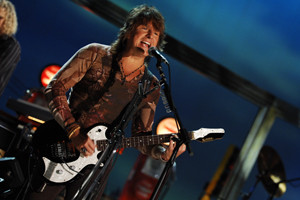 Znalazły się tam także wywiady z każdym z członków zespołu, a także plany oraz prezentacje 3D projektów sceny dla trasy "Lost Highway Tour". Ponadto można znaleźć dzwonki na telefony komórkowe.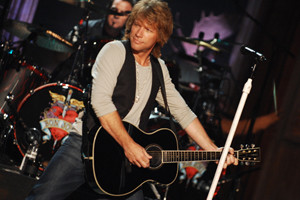 Wersja standardowa została wydana z zwykłym pudełku DVD. Wydano także wersję limitowaną w atrakcyjnym opakowaniu typu Digipack. Dołączono tam gratisowe pocztówki.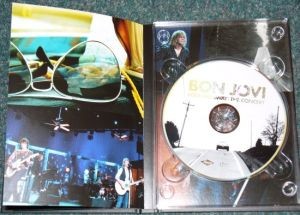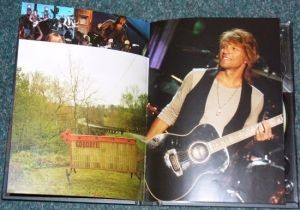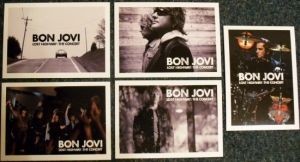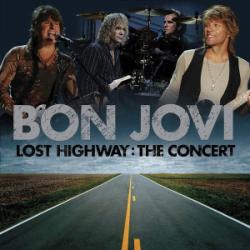 16 maja 2008 r. koncert wydano także na płycie CD (okładka powyżej). Na wersji CD brakowało piosenki "Who Says You Can't Go Home". Tę samą wersję CD dołączono także do specjalnej edycji albumu "Lost Highway: Tour Edition".
Wydane wersje:
Dane pochodza z serwisu Discogs i mogą być niekompletne.
Okładka
Tytuł
Wydawca i nr kat.
Format
Kraj
Rok wydania
Lost Highway: The Concert
A&E Television Networks
AAAE106870
DVD (DVD-Video, Multichannel, NTSC)
US
2007
Lost Highway: The Concert
Universal Music
1751264
DVD (DVD-Video, NTSC)
Argentina
2007
Bon Jovi - Lost Highway: The Concert
A&E Television Networks
AAAE106880
DVD (DVD-Video, Multichannel, NTSC)
US
2007
Lost Highway: The Concert
Universal Music
175 126-4
DVD (DVD-Video, Multichannel, NTSC)
Thailand
2007
Bon Jovi - Lost Highway: The Concert
A&E Television Networks
AAAE101350
DVD (DVD-Video)
US
2007
Lost Highway: The Concert (Limited Edition)
Universal Music DVD Video
UIBL-1016
DVD (DVD-Video, NTSC, Limited Edition)
Japan
2007
Bon Jovi - Lost Highway: The Concert
A&E Television Networks
AAAE106890
DVD (DVD-Video, Multichannel, NTSC)
US
2007
Bon Jovi - Lost Highway: The Concert (Limited Edition)
Universal Music
0602517512627
DVD ()
Taiwan
2007
Bon Jovi - Lost Highway: The Concert
Not On Label (Bon Jovi)
none
DVD (DVD-Video, Unofficial Release)
Russia
2007
Lost Highway: The Concert (Limited Edition)
Universal Music
0602517512627 , none
DVD (Limited Edition)
Europe
2007
Bon Jovi - Lost Highway: The Concert (Limited Edition)
Universal Music
0602517512627
DVD ()
2007
Lost Highway: The Concert
Universal Music
60251751264
DVD (DVD-Video, NTSC)
Brazil
2007
Bon Jovi - Lost Highway: The Concert
Universal Music
1751264
DVD (DVD-Video, Multichannel, NTSC)
Australia
2007
Lost Highway: The Concert
Universal Music
0602517512641
DVD (DVD-Video, Multichannel, NTSC)
Europe
2007
Lost Highway: The Concert
Island Records
06025 1768649 6
CD ()
Europe
2008
Lost Highway: The Concert
ООО «Юниверсал Мьюзик»
460502601372
DVD (DVD-Video, Multichannel, NTSC)
Russia
2008
Lost Highway: The Concert
Universal Music
PROI-6004
Memory Stick (MPEG-4 Video, Stereo)
Japan
2010
Lost Highway The Concert
Universal
0602517512627
DVDr (Promo, Test Pressing)
Germany
-
Kup w