Breakout: Video Singles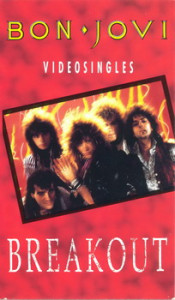 Rok wydania: 1985
Czas trawania: 27 minut
Kompilacja teledysków pochodzących z albumów Bon Jovi i 7800° Fahrenheit. Została wydana w formacie VHS. W 1993 wydano reedycję w formatach VHS i DVD.
Nagrano 6 teledysków:
1. In and Out of Love
2. Only Lonely
3. Silent Night
4. She Don't Know Me
5. Hardest Part is the Night
6. Runaway
Wydane wersje:
Dane pochodza z serwisu Discogs i mogą być niekompletne.
Okładka
Tytuł
Wydawca i nr kat.
Format
Kraj
Rok wydania
Videosingles Breakout
CMV (2)
CMV 1005
VHS (Compilation, PAL)
UK
1985
Breakout!
Pioneer Artists
PA-86-M035
Laserdisc (8", EP, Compilation, Stereo, NTSC)
US
1985
Videosingles Breakout
Polygram Music Video
041 386 2
VHS (Compilation)
Australasia
1985
Breakout
Sony
none
VHS (Compilation, NTSC, Stereo)
US
1985
Breakout
Sony
none
Betacam (Compilation, Stereo)
US
1985
Breakout
Polygram Video
440 083919-3
VHS (NTSC)
Canada
1985
Breakout
Sony
R01658M
Video8 (Compilation, NTSC)
US
1985
Breakout
PolyGram Records, Inc.
SM048-3056
Laserdisc (12", Compilation, NTSC)
Japan
1985
Videosingles Breakout
Polygram Video
041 386 2
VHS (Compilation, PAL)
Europe
1985
Breakout - Videosingles
Channel 5
CFV 06112
VHS (Compilation, Reissue, Stereo, PAL)
UK
1987
Breakout
Pioneer LDC
SM035-3324
Laserdisc (12", Compilation, NTSC)
Japan
1989
Videosingles Breakout
Polygram Video
041 386 2
VHS (Compilation, Reissue, PAL)
UK
1993
Videosingles Breakout
PolyGram Video
POLS-1601
Laserdisc (12", Single Sided, Compilation, Stereo, NTSC)
Japan
1995
Breakout!
Pioneer Artists
PA-86-M035
Laserdisc (8", EP, Compilation, Reissue, Stereo, NTSC)
US
-
Kup w