The CRUSH Tour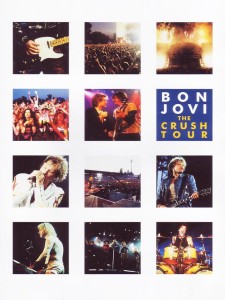 Rok wydania: 2000
Czas trwania: 94 minuty
Nagarnie koncertu w Zurichu na Letzigrund Stadion z dnia 30 sierpnia 2000 r. Pierwsze wydawnictwo wideo Bon Jovi jednocześnie wydane na DVD i VHS. Na DVD zamieszczono dodatkowo 30 minutowy program backstage, klipy "It's My Life" i "Say It Isn't So" i inne materiały.
"The Crush Tour" to trzeci oficjalny materiał koncertowy Bon Jovi zrealizowany podczas europejskiej części trasy promującej album Crush, który okazał się wielkim powrotem zespołu na scenę muzyczną.
Tracklista:
1. Livin' On A Prayer
2. You Give Love A Bad Name
3. Captain Crash & the Beauty Queen From Mars
4. Say It Isn't So
5. It's My Life
6. Bed Of Roses
7. Just Older
8. I'll Sleep When I'm Dead
9. Bad Medicine
10. Wanted Dead Or Alive
11. I'll Be There For You
12. Someday I'll Be Saturday Night
13. Keep The Faith
Wydane wersje:
Dane pochodza z serwisu Discogs i mogą być niekompletne.
Okładka
Tytuł
Wydawca i nr kat.
Format
Kraj
Rok wydania
The Crush Tour
Mercury
053 331-9
DVD (DVD-Video, PAL, Copy Protected)
Europe
2000
The Crush Tour
Mercury
053 331-3
VHS (PAL)
Europe
2000
The Crush Tour
Island Records
9834486
DVD (DVD-Video, Compilation)
US
2000
The Crush Tour
Island Records
440 053 331-9
DVD (DVD-Video, Compilation)
Brazil
2000
The Crush Tour
Island Records
440 053 331-9
DVD (DVD-Video, Album)
US
2000
The Crush Tour
Island Records
053 331-9
DVD (DVD-Video, Compilation)
Mexico
2000
The Crush Tour
Island Records
440 053 331-9
DVD (DVD-Video, Compilation)
Argentina
2000
The Crush Tour
Island Def Jam Music Group
440 053 331-9
DVD (DVD-Video, Compilation)
Canada
2000
The Crush Tour
Mercury
UIBL-1002
DVD (DVD-Video, NTSC, Compilation)
Japan
2000
The Crush Tour
Island Records
04400533319
DVD (DVD-Video, Repress)
Brazil
2005
The Crush Tour
Island Records
460502601230
DVD (DVD-Video, Compilation)
Russia
2007
The Crush Tour
Not On Label (Bon Jovi)
DN-037
Blu-ray (Unofficial Release, Stereo)
China
2010
The Crush Tour
Starlight (5)
STAR169-9
DVD (Unofficial Release)
Germany
2011
The Crush Tour - Ultimate Edition 3 Disc Box Set
Eagle Vision (2)
none
DVD (DVD-Video, Unofficial Release)
Russia
2013
The Crush Tour
Mercury
053 331-9
DVD (DVD-Video, PAL, Copy Protected)
Europe
-
Kup w