New Jersey: The Videos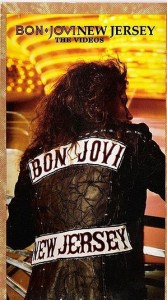 Rok wydania: 1989
Czas trwania: 60 minut
Kompilacja teledysków zespołu pochodzących z albumu New Jersey. Materiał dodatkowy stanowiły wywiady i zdjęcia zza kulis. Została początkowo wydana jedynie w Stanach Zjednoczonych i Japonii.
Nagrano 7 klipów:
1. Bad Medicine (wersja 1)
2. Born To Be My Baby
3. I'll Be There For You
4. Lay Your Hands On Me
5. Living In Sin
6. Blood On Blood
7. Bad Medicine (wersja 2)
Wydane wersje:
Dane pochodza z serwisu Discogs i mogą być niekompletne.
Okładka
Tytuł
Wydawca i nr kat.
Format
Kraj
Rok wydania
New Jersey The Videos
PolyGram Music Video
081 324-2
VHS (PAL)
Australia
1989
New Jersey The Videos
PolyGram Music Video
081 325-3
VHS (NTSC)
US
1989
New Jersey The Videos
PolyGram Music Video
081 324-3
VHS (PAL)
Europe
1989
New Jersey The Videos
Channel 5
CFV 08892
VHS (Stereo, PAL)
UK
1989
New Jersey (The Videos)
PolyGram Music Video
PHLS-5504
Laserdisc (12", Single Sided, NTSC)
Japan
1989
New Jersey
Polygram
081 324-3
VHS (Stereo, SECAM)
France
1989
New Jersey (The Videos)
VideoArts
VAL-3122
Laserdisc (12", Single Sided, NTSC)
Japan
1989
New Jersey The Videos
Polygram Video
081 324 3
VHS (PAL)
UK & Europe
1989
New Jersey The Videos
PolyGram Music Video
081 324-1
CDV (12", PAL)
UK & Europe
1989
New Jersey (The Videos)
PolyGram Music Video
081 325-1
CDV (12", NTSC)
US
1989
New Jersey The Videos
PolyGram Music Video
081 324-3
VHS (PAL)
Europe
1989
New Jersey The Videos
PolyGram Music Video
081 324-3
VHS (PAL)
Spain
1990
New Jersey : The Videos
Not On Label (Bon Jovi)
none
DVD (DVD-Video, NTSC, Unofficial Release, Stereo)
Russia
1999
New Jersey - The Videos
Universal
DVI1048 081325-2
CD (VCD)
Taiwan
-
Kup w