Cross Road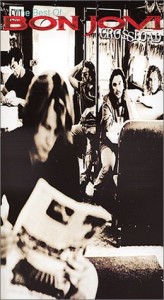 Rok wydania: 1994
Czas trwania: 80 minut
Jest to wydawnictwo, które ukazało się przy okazji premiery kompilacji największych przebojów grupy pod tym samym tytułem. Znajdziemy tu 16 teledysków Bon Jovi, przy czym cztery zaprezentowane fanom po raz pierwszy. Materiał został w 1994 r. nagrodzony Metal Edge Readers Choice Award w kategorii  Best Video Cassette.
Zawartość:
1. Livin' On A Prayer
2. Keep The Faith
3. Wanted Dead Or Alive
4. Lay Your Hands On Me
5. You Give Love A Bad Name
6. Bed Of Roses
7. Blaze Of Glory
8. In These Arms
9. Bad Medicine
10. I'll Be There For You
11. Dry County
12. Living In Sin
13. Miracle
14. I Believe
15. I'll Sleep When I'm Dead
16. Always
Wydane wersje:
Dane pochodza z serwisu Discogs i mogą być niekompletne.
Okładka
Tytuł
Wydawca i nr kat.
Format
Kraj
Rok wydania
Cross Road / The Best Of Bon Jovi
Polygram Video
632 776-3
VHS (Compilation, SECAM)
France
1994
Crossroad: The Video
Polygram Video
800 632 777-1
Laserdisc (12", NTSC)
US
1994
Crossroad.. The Best Of Bon Jovi
Polygram Video
632 776-3
VHS (Compilation, PAL)
Spain
1994
Cross Road / The Best Of Bon Jovi
Polygram Video
632 776-3, 07 800 632 776-3
VHS (Compilation)
Netherlands
1994
Crossroad: The Video
Polygram Video
PHLS-5007
Laserdisc (NTSC, 12")
Japan
1994
Cross Road / The Best Of Bon Jovi
Polygram Video
VP9062, 632 777-4
CD (VCD, PAL)
South Korea
1994
Cross Road / The Best Of Bon Jovi
Polygram Video
632 776-3
VHS (Compilation, PAL)
UK
1994
Cross Road / The Best Of Bon Jovi
Polygram Video
800 632 777-3
VHS (Compilation, NTSC)
US
1994
Cross Road / The Best Of Bon Jovi
Polygram Video
632 776-3, 632 776 3
VHS (Compilation)
UK
1994
Cross Road / The Best Of Bon Jovi
Polygram Video
632 776-4
CD (VCD, PAL)
Germany
1994
Crossroad: The Video
Polygram Video
none, IDDK0006
CD (VCD, Compilation)
Russia
1997
Cross Road / The Best Of Bon Jovi
Polygram Video
POBS-1001
DVD (NTSC)
Japan
1997
Cross Road / The Best Of Bon Jovi
Amalgama Music
6327769
DVD (DVD-Video, PAL, Compilation, Stereo)
Russia
2001
Cross Road / The Best Of Bon Jovi
Amalgama Music
6327769
DVD (DVD-Video, PAL, Compilation, Stereo)
Russia
2001
Crossroad: The Video
Polygram Video
UIBY-1019
DVD (NTSC, Reissue)
Japan
2001
Cross Road / The Best Of Bon Jovi
Mercury
UIBL-9001
DVD (NTSC)
Japan
2003
Kup w