This Left Feels Right – Live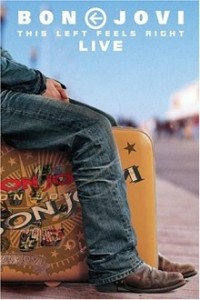 Rok wydania: 2004
Wydawnictwo DVD w dwóch wersjach – pierwszej, zawierającej jedną płytę DVD z pełnym zapisem koncertu oraz kilkoma dodatkami oraz w edycji limitowanej – zawierającej, oprócz DVD z koncertem, drugą płytę z dodatkami dla fanów.
Czas trwania: 108 minut
DVD 1 zawiera pełen koncert zespołu, sfilmowany 14 i 15 listopada 2003 w Borgata Hotel Casino & Spa w Atlantic City, New Jersey, USA.
Tracklista:
1. Love For Sale
2. You Give Love A Bad Name
3. Wanted Dead Or Alive
4. Livin' On A Praye
5. It's My Life
6. Misunderstood
7. Lay Your Hands On Me
8. Someday I'll Be Saturday Night
9. Last Man Standing
10. Sylvia's Mother
11. Everyday
12. Bad Medicine
13. Bed Of Roses
14. Born To Be My Baby
15. Keep The Faith
16. Joey
17. Thief Of Hearts
18. I'll Be There For You
19. Always
20. Blood On Blood
DVD 1 zawiera także dodatki:
EVERYDAY WITH BON JOVI: 30 minutowy program pokazujący za kulisowe tajemnice oraz tworzenie DVD.
SET LIST: Możliwość obejrzenia piosenek w dowolnej kolejności
AUDIO EXPERIENCE: możliwość przesłuchania koncertu w Dolby 5.1 Stereo lub DTS.
OFF THE RECORD: Fragmenty, które nie znalazły się w zapisie koncertu, ale były godne uwagi…
SUPPORTING CAST: Podziękowanie dla wszystkich, którzy włączyli się w jakiś sposób w wydanie DVD.
BONUS DVD 2 zawiera:
CLIP POKER: Interaktywny poker – możliwość zagrania z Bon Jovi, zwycięzca w nagrodę może obejrzeć materiał z historycznego koncertu zespołu w Londynie.
TEXAS HOLD'EM Q&A WITH BON JOVI: Ekskluzywny wywiad z członkami zespołu w czasie gry w karty.
VIDEO JUKEBOX: Alternatywny sposób obejrzenia materiału z koncertu w Londynie.
DIRECTOR'S VIEW: Możliwość zobaczenia piosenek w wielu ujęciach kamer (tak, jak widzi to reżyser): Love For Sale, I'll Be There For You, Lay Your Hands
SNAPSHOTS: Galeria zdjęć z koncertu i zza kulis.
YOUR LINGO: Możliwość wyboru napisów do pokera i wywiadu (angielski, francuski, niemiecki, hiszpański, portugalski).
Wydane wersje:
Dane pochodza z serwisu Discogs i mogą być niekompletne.
Okładka
Tytuł
Wydawca i nr kat.
Format
Kraj
Rok wydania
This Left Feels Right Live
Island Records
0602498618561
DVD (DVD-Video, Multichannel, PAL, Stereo)
Europe
2003
This Left Feels Right (Live)
Island Records
602498618561
DVD (DVD-Video)
Thailand
2003
This Left Feels Right Live (limited edition)
Universal Music
60249861867
DVD (DVD-Video, Album)
Brazil
2004
This Left Feels Right (Live)
Island Records
0602498618547
DVD (DVD-Video, PAL)
Europe
2004
This Left Feels Right (Live)
Island Def Jam Music Group (2)
0602498618561
DVD (DVD-Video, PAL, Unofficial Release)
Russia
2004
This Left Feels Right (Live)
Island Records
B0001982-09
DVD (DVD-Video, Limited Edition)
US
2004
This Left Feels Right (Live)
Island Def Jam Music Group
986 185-6
DVD (DVD-Video, PAL)
Australasia
2004
This Left Feels Right (Live)
Island Records
0602498618547
DVD (DVD-Video, Multichannel, PAL)
Europe
2004
This Left Feels Right Live (limited edition)
Universal Music
UIBL-1007/8
DVD (DVD-Video, NTSC, Album)
Japan
2004
This Left Feels Right Live
Island Records
986 203-6
CD (VCD, PAL)
India
2004
This Left Feels Right Live
Island Records
B0002024-09
DVD (Album)
US
2004
This Left Feels Right (Live)
Island Records
B0002024-09
DVD (DVD-Video, PAL)
US
2004
This Left Feels Right (Live)
Island Records
0602498618639
DVD (DVD-Video, PAL)
Europe
2004
This Left Feels Right (Live)
Island Records
0602498618660
DVD (DVD-Video, Limited Edition)
Argentina
2004
This Left Feels Right Live
Star Records (20)
dvd-m-006
DVD (PAL, Unofficial Release)
Russia
2007
This Left Feels Right (Live)
Island Records
460502600335
DVD (DVD-Video, PAL)
Russia
-
Kup w