Live From London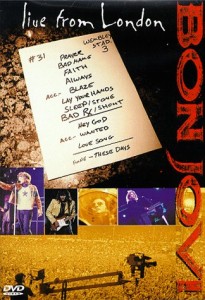 Rok wydania: 1995
Czas trwania: 90 minut
Koncert na Wembley w Londynie z trasy promocyjnej "These Days" z 25 czerwca 1995 roku, w którym uczestniczyło ponad 70 tysięcy fanów.
Wydawnictwo, na które niewątpliwie należy zwrócić uwagę. Jest to pierwszy zarejestrowany i wydany stadionowy koncert Bon Jovi. "Live From London" – koncert z ery "These Days" nie zawodzi od pierwszych do ostatnich minut. Energia płynąca ze sceny udziela się publiczności, która w ilości ok. 72 tysięcy szczelnie zapełniła "stare Wembley". Reżyserem "Live From London" jest David Mallet a całość wyprodukował Andy Picheta. W formie bonusowej zawartości możemy zobaczyć zakulisowe ujęcia pomieszane z urywkami z koncertu przy podkładzie utworu "These Days".
Koncert początkowo został wydany na VHS w 1995 r, późniejsza światowa premiera na nośniku DVD miała miejsce w 2003 r. Live From London znalazło się także na boxsecie "Cross Road: Deluxe Sound & Vision" wydanym w 2005 r. Wersja DVD nie zawiera żadnych dodatkowych bonusów.
Tracklista:
1. Livin' On A Prayer
2. You Give Love A Bad Name
3. Keep The Faith
4. Always
5. Blaze Of Glory
6. Lay Your Hands on Me
7. I'll Sleep When I'm Dead/Papa Was a Rolling Stone (medley)
8. Bad Medicine/Shout (medley)
9. Hey God
10. Wanted Dead Or Alive
11. This Ain't A Love Song (bonus video)
12. Keep The Faith
Wydano także na DVD w 1998 roku. Na DVD dodano materiał backstage, historię zespołu, jego dyskografię.
Niektóre wydania DVD posiadały inna okładkę: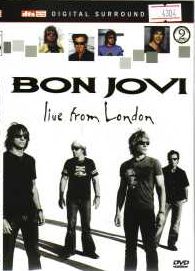 W 2005 roku płyta DVD z koncertem "Live From London" została dołączona do "Crossroad" w trzypłytowej wersji deluxe. a także do boxsetu "Chronicles".
Wydane wersje:
Dane pochodza z serwisu Discogs i mogą być niekompletne.
Okładka
Tytuł
Wydawca i nr kat.
Format
Kraj
Rok wydania
Live From London
Polygram Video
636 218-3
VHS (PAL)
Europe
1995
Live From London
Polygram Video
6362183
VHS (PAL)
Australasia
1995
Live From London
Polygram Video
POVS 1006
VHS (Stereo, NTSC)
Japan
1995
Live From London
Polygram Video
636 218-3
VHS (PAL)
UK
1995
Live From London
Polygram Video
800 636 219-3
VHS (NTSC)
Canada
1995
Live From London
Polygram Video
636 218-3
VHS (SECAM)
France
1995
Live From London
Polygram Video
800 636 219-3
VHS (NTSC)
US
1995
Live From London
Mercury
POLS-1006
Laserdisc (NTSC)
Japan
1995
Live From London
PolyGram
POBS-1003
DVD (Mini, DVD-Video, NTSC)
Japan
1997
Live From London
Polygram Video
800 636 219-2
DVD (DVD-Video, NTSC)
USA & Canada
1998
Live From London
Universal
821 016 7
DVD ()
Italy
2003
Live from london
Universal Music DVD Video
DVD 821 016 3 . 27
DVD (DVD-Video)
Benelux
2003
Live From London
Universal
821 016 5, DVD 821 016 5 • 11
DVD (DVD-Video, PAL, Reissue, Stereo)
Europe
2003
Live From London
Universal
063621-9
DVD (DVD-Video)
Argentina
2003
Live From London
Universal
DVD 821 016 5 11
DVD (DVD-Video, PAL, Reissue, Stereo)
Europe
2003
Live From London
Universal Music
78006362192
DVD (DVD-Video, Stereo)
Brazil
2003
Live From London
Universal
DVD 821 017 4 48
DVD (DVD-Video)
Sweden
2003
Live From London
Universal
DSD 8210161
DVD (DVD-Video, PAL)
Denmark
2003
Live From London
Mercury
UIBM-9001
DVD (DVD-Video, NTSC)
Japan
2003
Live From London
Universal
821 017 3
DVD ()
Spain
2003
Live From London
Universal Music DVD Video
8209852A
DVD (DVD-Video, PAL)
Australasia
2004
Live From London
Universal Music DVD Video
821 016 6
DVD (DVD-Video, PAL)
Hungary
2004
Live From London
Universal Music DVD Video
982 336-3, 06024 982 336-3
DVD (DVD-Video, PAL)
Europe
2004
Live From London
Universal
DVD 821 017 1 • 73
DVD (PAL, Stereo)
Poland
2004
Live From London
Universal Music DVD Video
0602517019850
DVD (DVD-Video, PAL, Album, Reissue)
Europe
2004
Wembley Stadium - Live in Concert Anthology
Silver Music (3)
MTCD 110 2006
DVD (DVD-Video, NTSC, Unofficial Release, Stereo)
Brazil
2006
Live From London
Star Records (20)
dv-m-085
DVD (DVD-Video, PAL, Unofficial Release, Stereo)
Russia
2007
Live From London
Mercury
800 636 219-1
Laserdisc (Reissue, NTSC)
US
-
Live From London
Mercury (2)
8188
DVD (DVD-Video, Unofficial Release)
US
-
Live From London
Universal Music Taiwan
DVDI1019, 636219-2
DVD (NTSC, DVD-Video)
Taiwan
-
Live From London
Universal Music DVD Video
982 336-3
DVD (DVD-Video, PAL, Reissue)
Australia
-
Bon Jovi
Silver Music (3)
MTCD 110 2006
DVD (DVD-Video, NTSC, Repress, Unofficial Release)
Brazil
-
Live From London
Mercury
6362192
DVD (DVD-Video, NTSC, Album)
Argentina
-
Kup w