Keep The Faith – An Evening With Bon Jovi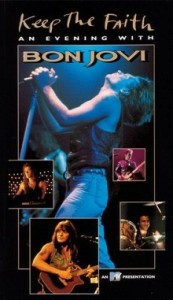 Rok wydania: 1993
Czas trwania: 85 minut
Jest to klubowy występ zespołu, sceny backstage i 2 bonus-tracki. Koncert miał miejsce 25 października 1992 w Kaufman's Studios, Astoria, Queens w Nowym Jorku. Odbył się jeszcze przed wydaniem płyty "Keep The Faith".
Na uwagę zwraca przede wszystkim unikalna, kameralna atmosfera występu, podczas którego zespół zaprezentował swoje największe przeboje oraz covery m.in "Its My Life" grupy The Animals czy "Baby What You Want Me To Do" -Jimmiego Reeda) mieszając aranżacje akustyczne z elektrycznymi. Koncert miał miejsce w Kaufman's Studios Astoria w dzielnicy Nowego Jorku – Queens. Tak naprawdę jest to mix dwóch występów z 24 i 25 października 1992 r. Do tej pory jest to jedyne wydawnictwo Bon Jovi, które nie zagościło na nośniku DVD.
1. With A Little Help From My Friends
2. Love For Sale
3. Lay Your Hands On Me
4. Blaze Of Glory
5. Little Bit of Soul
6. Brother Louie
7. Bed Of Roses
8. Livin' On A Prayer
9. Fever
10. We Gotta Get Out Of This Place
11. Wanted Dead Or Alive
12. I'll Sleep When I'm Dead
13. Bed Medicine
14. Keep The Faith
Wydane wersje:
Dane pochodza z serwisu Discogs i mogą być niekompletne.
Okładka
Tytuł
Wydawca i nr kat.
Format
Kraj
Rok wydania
Keep The Faith (An Evening With Bon Jovi)
PolyGram Video
086 514-1
Laserdisc (12", Stereo, PAL)
Europe
1993
Keep The Faith - An Evening With Bon Jovi
PolyGram Video
310690294-2
CD (CDi)
US
1993
Keep The Faith - An Evening With Bon Jovi
PolyGram Video
810 2003
CD (CDi, Reissue, PAL)
Germany
1993
Keep The Faith - An Evening With Bon Jovi
PolyGram Video
PHLS-1011
Laserdisc (12", NTSC)
Japan
1993
Keep The Faith - An Evening With Bon Jovi
PolyGram Video
086 514-3
VHS ()
UK
1993
Keep The Faith - An Evening With Bon Jovi
PolyGram Music Video
086 514-3
VHS (PAL)
Australia
1993
Keep The Faith - An Evening With Bon Jovi
PolyGram Video
810 2003
CD (CDi, PAL)
Germany
1993
Keep The Faith - An Evening With Bon Jovi
PolyGram Video
086 514-4, 0865 144
CD (VCD, CDi, PAL)
UK & Europe
1993
Keep The Faith - An Evening With Bon Jovi
PolyGram Video
440 086 515 3
VHS (NTSC)
US
1993
Keep The Faith - An Evening With Bon Jovi
PolyGram Video
440 086 515-1
Laserdisc (NTSC)
US
1993
Keep The Faith (An Evening With Bon Jovi)
Exclusive Vision
EX 5158
DVD (Album, Unofficial Release)
Brazil
2002
Keep The Faith An Evening With
The Way Of Wizards
WOW-226
DVD (DVD-Video, NTSC, Limited Edition, Unofficial Release)
Europe
2006
Kup w