This House Is Not For Sale – Live from The London Palladium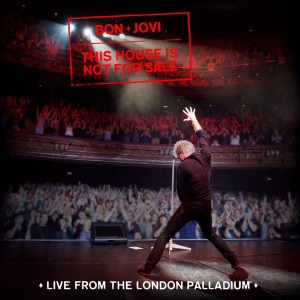 Data wydania: 16 grudnia 2016
Tracklista:
1. This House is Not For Sale
2. Living With the Ghost
3. Knockout
4. Labor of Love
5. Born Again Tomorrow
6. Roller Coaster
7. New Years Day
8. Devil's in the Temple
9. Scars on this Guitar
10. God Bless This Mess
11. Reunion
12. Real Love
13. All Hail the King
14. We Don't Run
15. Come On Up to Our House
22 listopada 201 roku na profilu zespołu na Facebooku ogłoszono, że 16 grudnia ukaże się kolejne w krótkim czasie wydawnictwo, tj. trzecia w historii zespołu płyta koncertowa (po "One Wild Night: Live 19985 – 2001" i "Inside Out"). Album pt. "This House Is Not For Sale – Live from The London Palladium" miał zawierać tylko utwory z najnowszego studyjnego albumu nagrane podczas koncertu promocyjnego w Londynie z 10 października 2016 r. Album nie doczekał się praktycznie żadnej promocji w Polsce i zagranicą.
Wydane wersje:
Dane pochodza z serwisu Discogs i mogą być niekompletne.
Okładka
Tytuł
Wydawca i nr kat.
Format
Kraj
Rok wydania
This House Is Not For Sale (Live From The London Palladium)
Island Records
0602557329827
CD (Album)
Europe
2017
This House Is Not For Sale (Live From The London Palladium)
Island Records
UICL-1135
CD ()
Japan
2017
This House Is Not For Sale (Live From The London Palladium)
Island Records
5732982
CD (Album)
Canada
2017
This House Is Not For Sale (Live From The London Palladium)
Universal
5732982
CD (Album)
Taiwan
2017
This House Is Not For Sale (Live From The London Palladium)
Island Records
UICL-1135
CD (Album)
Japan
2017
This House Is Not For Sale (Live From The London Palladium)
Island Records
B0026146-02
CD (Album)
US
2017
Kup w