Bounce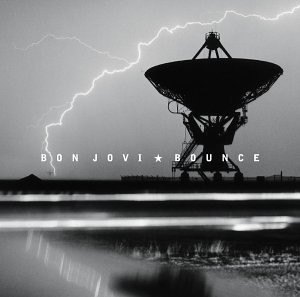 Data wydania: 8 października 2002
Całkowity czas trwania: 49:06
Tracklista:
1. Undivided
2. Everyday
3. The Distance
4. Joey
5. Misunderstood
6. All About Lovin' You
7. Hook Me Up
8. Right Side Of Wrong
9. Love Me Back To Life
10. You Had Me From Hello
11. Bounce
12. Open All Night
Na japońskiej wersji znajdowała się dodatkowo piosenka "Postcards From Wasteland". Na niektórych wersjach znajdował się także bonus w postaci bside'u "No Regrets".
Wydano także płytę w nowoczesnym, audiofilskim, lecz mało popularnym, formacie SA-CD.
W maju i czerwcu 2010 roku wszystkie dotychczasowe 11 albumów studyjnych zostało wydanych w wersji Special Edition. Każda z płyt miała dodatkowe piosenki, oznaczenie na okładce oraz zmienioną książeczkę – zawierała dodatkowe zdjęcia i opisy. W Japonii płyty wydano w formacie SHM-CD stylizując opakowanie na kopertę do winyli.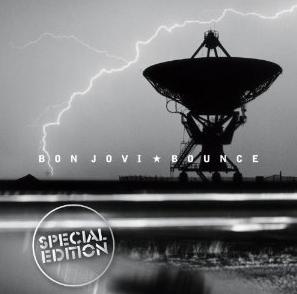 Dodatkowe piosenki na albumie "Special Edition" (2010):
13. The Distance (live)
14. Joey (live)
15. Hood Me Up (live)
16. Bounce (live)
W październiku 2016 r. wydana na płycie winylowej.
Posłuchaj próbki albumu:
Wydane wersje:
Dane pochodza z serwisu Discogs i mogą być niekompletne.
Okładka
Tytuł
Wydawca i nr kat.
Format
Kraj
Rok wydania
Bounce
Island Records
4400630552
CD (Album)
Canada
2002
Bounce
Island Records
04400630592
CD (Album, Enhanced)
Brazil
2002
Bounce
Universal
063 059-2A
CD (Album)
Taiwan
2002
Bounce
Island Records
063 059-4
Cassette (Album)
Poland
2002
Bounce
Island Records
063 059-4
Cassette (Album)
Ukraine
2002
Bounce
Island Records
063 059-4
Cassette (Album)
Europe
2002
Bounce
Island Records
440 063 055-2
CD (Album)
US
2002
Bounce
Island Records
440 063 855-2
CD (Album)
US
2002
Bounce
Mercury
063 395-2
CD (Album, Enhanced, Special Edition)
UK
2002
Bounce
Island Records
063 059-2
CD (Album)
Australasia
2002
Bounce
Island Def Jam Music Group
440 063 391-2
SACD (Multichannel, Stereo, Album)
US
2002
Bounce
Island Def Jam Music Group
440 063 059-2
CD (Album)
Turkey
2002
Bounce
Island Records
440 063 055-2
CD (Album, Club Edition)
US
2002
Bounce
Island Records
063 059-2B
CD (Album)
Taiwan
2002
Bounce
Island Records
063 059-2
CD (Album)
US
2002
Bounce
Island Records
440 063 055-2
CD (Album)
Israel
2002
Bounce
Island Records
SSTARCD6744
CD (Album)
South Africa
2002
Bounce
Island Records (2)
LXZ 09005
CD (Album, Unofficial Release)
Russia
2002
Bounce
Universal (3)
063228-2
CD (Album, Unofficial Release)
Russia
2002
Bounce
Island Records
440 063 059-4, 2308
Cassette (Album)
Indonesia
2002
Bounce
Island Records
440 063 055-4
Cassette (Album)
US
2002
Bounce
Island Records
063 059-4
Cassette (Album, Stereo)
Bulgaria
2002
Bounce
Island Records
063 136-2, 063 059-2
CD (Album)
UK & Europe
2002
Bounce
Island Records
440 063 055-2
CD (Album, Special Edition)
US
2002
Bounce
Island Records (2)
none
CD (Album, Unofficial Release)
Russia
2002
Bounce
Island Records
440 063 055-9
CD (Album)
Russia
2002
Bounce
Island Records (2)
PCD-2432 PCD-1127
CD (HDCD, Album, Unofficial Release)
China
2002
Bounce
Island Records
063 136-2, 063 059-2
CD (Album)
Europe
2002
Bounce
Island Records
063 059-4
Cassette (Album)
Europe
2002
Bounce
Island Records
063 059-2
CD ()
Mexico
2002
Bounce
Island Records
#BJ4063
CDr (Album, Promo)
US
2002
Bounce
Island Records
063 136-2, 063 059-2
CD (Album)
Europe
2002
Bounce
Island Records
063 059-4
Cassette (Album, Limited Edition)
Thailand
2002
Bounce
Island Records
440 063 055-2
CD (Album)
US
2002
Bounce
Island Records
063 136-2, 063 059-2
CD (Album)
Singapore
2002
Bounce
Island Records
063 055-4
Cassette (Album)
Russia
2002
Bounce
Island Records
440 063 055-9
CD (Album)
Ukraine
2002
Bounce
Island Records
UICL-1030
CD (Album, Promo)
Japan
2002
Bounce
Island Records
063 059-2
CD (Album, Special Edition)
Australasia
2002
Bounce
Universal
063 059-2
CD (Album)
China
2002
Bounce
Universal
440 063 059-4
Cassette (Album)
Turkey
2002
Bounce
Island Records
063 136-2
Cassette (Album)
Indonesia
2002
Bounce
Island Records
DP8427
CD (Album)
South Korea
2002
Bounce
Island Records (2)
2002-B-226
CD (Album, Unofficial Release)
Russia
2002
Bounce
Island Records
440-063 059-4, 440 063 059-4
Cassette (Album)
Hungary
2002
Bounce
Island Def Jam Music Group
063059-2
CD (Album, Promo)
US
2002
Bounce
Mercury (2)
none
CD (Album, Unofficial Release)
Russia
2002
Bounce
Island Records
063 136-2, 440 063 059-2
CD (Album)
Malaysia
2002
Bounce
Island Records
063 059-4
Cassette ()
Europe
2002
Bounce
Island Records
063059-4
Cassette (Album)
Argentina
2002
Bounce
Island Records (2)
063 059-2
CD (Album, Unofficial Release)
Europe
2002
Bounce
Island Records
UICL-1030
CD (Album)
Japan
2002
Bounce
Island Records
440 063 059-4, 063 059-4
Cassette (Album)
Europe
2002
Bounce
Island Def Jam Music Group
063 391-2
SACD (Album, Reissue, Remastered)
Europe
2002
Bounce
Island Records
063059-2
CD (Album)
Argentina
2002
Bounce
Universal
00440 053 059-2
CD (Album)
India
2002
Bounce
Vigma
314
Cassette (Album, Reissue, Unofficial Release)
Belarus
2003
Bounce - The Tour Edition
Island Records
B0000535-00, 440 063 055-2, B0000535-00 DV01
CD (Album)
US
2003
Bounce (Tour Edition)
Island Records
B00000535-00
CD (Album)
US
2003
Bounce
Island Records
UICY-9805
CD (Album, Reissue)
Japan
2005
Bounce
Island Records
UICY-6468
CD (Album, Reissue)
Japan
2006
Bounce
Universal Music
UICY-91200
CD (Album, Limited Edition, Reissue, Remastered)
Japan
2008
Bounce
Not On Label (Bon Jovi)
CD2380
CD (Album, Unofficial Release)
2010
Bounce
Island Records
B0014181-02
CD (Album, Reissue, Remastered, Special Edition)
US
2010
Bounce
Island Records
06025-2740169-0, 00602527401690
CD (Album, Reissue)
Malaysia
2010
Bounce
Island Records
274 016-9
CD (Album, Reissue)
Indonesia
2010
Bounce
Island Records
UICY-94553, UICX-1345
CD (Album, Reissue, Remastered, Special Edition)
Japan
2010
Bounce
Island Records
00602527401690
CD (Album, Reissue, Special Edition)
Europe
2010
Bounce
Island Def Jam Music Group
2740169
CD (Album, Special Edition)
Argentina
2010
Bounce
Island Records
06025-2736181-9
CD (Album, Reissue, Remastered, Special Edition)
Europe
2010
Bounce
Island Records
00602527361819, 06025 -2736181-9
CD (Album, Reissue, Remastered, Special Edition)
Europe
2010
Bounce
Universal Music Australia
2740169
CD (Album, Reissue, Remastered, Special Edition)
Australasia
2010
Bounce
Island Records
UICY-20264
CD (Album, Reissue, Remastered, Special Edition)
Japan
2012
Bounce
Island Records
UICY-91872
CD (Album, Limited Edition, Reissue, Special Edition)
Japan
2013
Bounce
Island Records
B0021973-01
Vinyl (LP, Album)
US
2016
Bounce
Island Records
06025 470 299-7(3)
Vinyl (LP, Album, Reissue)
Europe
2016
Bounce
Island Records
063059-2
CD (Album, Stereo)
Argentina
-
Bounce + Bonus
Invisible Halahup
063 059-2
CD (Album, Unofficial Release)
Russia
-
Kup w