Stranger In This Town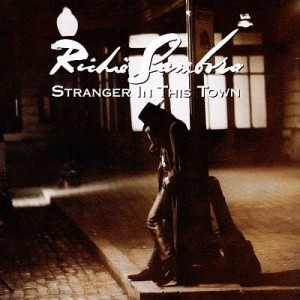 Data wydania: 3 września 1991
Tracklista:
1. Rest In Peace
2. Church Of Desire
3. Stranger In This Town
4. Ballad Of Youth
5. One Light Burning
6. Mr. Bluesman
7. Rosie
8. River Of Love
9. Father Time
10. The Answer
11. The Wind Cries Mary – bonus edycji japońskiej – dodatkowe informacje poniżej.
Produkcja: Neil Dorfsman, Richie Sambora
Czas trwania: 52:34 min.
Piosenkę "The Wind Cries Mary" Jimiego Hendrixa wydano na poszczególnych edycjach albumu a także jako bside na singlu "Ballad of Youth". Piosenka znalazła się także na soundtracku filmu "The Adventures of Ford Fairlane". W swoim nagraniu Sambora zmienił ostatni wers na "and the wind cries Jimi" na cześć Hendrixa.
Wydano także album w postaci dwupłytowego boxsetu w opakowaniu digipack. Poza albumem zawierał on płytę z wywiadem oraz naszyjnik z metalową kostką do gitary.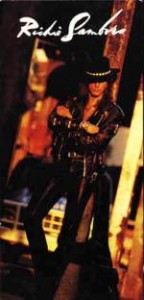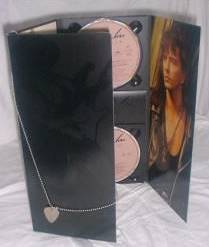 Wydane wersje:
Dane pochodza z serwisu Discogs i mogą być niekompletne.
Okładka
Tytuł
Wydawca i nr kat.
Format
Kraj
Rok wydania
Stranger In This Town
PolyGram Ibérica, S.A.
848 895-2
CD (Album)
Spain
1991
Stranger In This Town
Mercury
848 895-2, CDEPR 1226
CD (Album)
Mexico
1991
Stranger In This Town
Mercury
P4 48895
Cassette (Album, Club Edition)
Canada
1991
Stranger In This Town = Un Extraño En Este Pueblo
Mercury
848 895-1
Vinyl (LP, Album)
Argentina
1991
Stranger In This Town
Mercury
848 895-2
CD (Album)
Europe
1991
Stranger In This Town
Mercury
P2 48895
CD (Album, Club Edition)
Canada
1991
Stranger In This Town
Mercury
314 510 652-2DJ
CD (Album, Limited Edition, Promo)
US
1991
Stranger In This Town
Mercury
LPE 1226
Vinyl (LP, Album, Stereo)
Mexico
1991
Stranger In This Town
Mercury
848 895-2
CD (Album)
Europe
1991
Stranger In This Town
Mercury
848 895-4, 422 848 895-4
Cassette (Album)
US
1991
Stranger In This Town
Mercury
848 895-4
Cassette (Album, Stereo)
UK
1991
Stranger In This Town
Mercury
848 895-1
Vinyl (LP, Album)
Spain
1991
Stranger In This Town
Mercury
848 895-2
CD (Album)
France
1991
Stranger In This Town
Mercury
848 895-4
Cassette (Album)
Europe
1991
Stranger In This Town
Mercury
848 895-2
CD (Album)
Australasia
1991
Stranger In This Town
Mag Magic
MM-0563
Cassette (Album, Unofficial Release)
Poland
1991
Stranger In This Town
Mercury
848 895-4
Cassette (Album)
Canada
1991
Stranger In This Town
Mercury
848 895-1
Vinyl (LP, Album)
Greece
1991
Stranger In This Town
Mercury
PHCR-1100
CD (Album, Promo)
Japan
1991
Stranger In This Town
Mercury
314 510 652-2
CD (Album, Limited Edition)
US
1991
Stranger In This Town
Mercury
PHCR-1100
CD (Album)
Japan
1991
Stranger In This Town
Mercury
848 895-2
CD (Album)
US
1991
Stranger In This Town
Mercury
848 895-2, P2 48895
CD (Album, Club Edition)
US
1991
Stranger in This Town = Un Extrano En este Pueblo
Mercury
848 895-1
Vinyl (LP, Album, Promo, Stereo)
Argentina
1991
Stranger In This Town
Mercury
848 895-2
CD (Album, Limited Edition)
US
1991
Stranger In This Town
Mercury
848 895-4
Cassette (Album)
Indonesia
1991
Stranger In This Town
Mercury
848 895-1
Vinyl (LP, Album)
Colombia
1991
Stranger In This Town
Mercury
848 895-2
CD (Album)
Canada
1991
Stranger In This Town
Mercury
848 895-2
CD (Album, Club Edition)
US
1991
Stranger In This Town
Mercury
848 895-4
Cassette (Album)
Australasia
1991
Stranger In This Town
Mercury
848 895-2D
CD (Album, Promo)
Canada
1991
Stranger In This Town
Mercury
848 895-4
Cassette (Album, Stereo)
Spain
1991
Stranger In This Town
Mercury
STARL 5871
Vinyl (LP, Album, Stereo)
South Africa
1991
Stranger In This Town
Mercury
848 895-1
Vinyl (LP, Album)
Europe
1991
Stranger In This Town
Mercury
STARCD 5871
CD (Album)
South Africa
1991
Stranger In This Town
Mercury
848 895-1
Vinyl (LP, Album, Stereo)
Brazil
1991
Stranger In This Town
Mercury
848 895-4
Cassette (Album)
Europe
1991
Stranger In This Town
PolyGram
848 895-1 / RP 3026
Vinyl (LP, Album)
South Korea
1991
Stranger In This Town
Mercury
848 895-1
Cassette (Advance, Album, Promo, Sampler)
US
1991
Stranger In This Town
Mercury
848 895-1
Vinyl (LP, Album, Stereo)
UK & Europe
1991
Stranger In This Town
leo
60592L
Cassette (Album, Unofficial Release)
Poland
1992
Stranger In This Town
PGP RTB
521652
Cassette (Album)
Yugoslavia
1992
Stranger In This Town
Mercury
848 895-1, 221934
Vinyl (LP, Album, Stereo)
Yugoslavia
1992
Stranger In This Town
Mercury
PHCR-4275
CD (Album, Reissue)
Japan
1995
Stranger In This Town
Mercury
PHCR-4275
CD (Album, Promo, Reissue)
Japan
1995
Stranger In This Town
Mercury
UICY-9610
CD (Album, Reissue, Remastered)
Japan
2005
Stranger In This Town
Mercury
UICY-6471
CD (Album, Reissue)
Japan
2006
Stranger In This Town
Mercury
UICL-93009
CD (Album, Limited Edition, Reissue, Remastered)
Japan
2007
Stranger In This Town
Mercury
UICY-20461
CD (Album, Limited Edition, Reissue, Remastered)
Japan
2013
Stranger In This Town = ストレンジャー・イン・ディス・タウン
Mercury
UICY-79425
CD (Album, Limited Edition, Reissue)
Japan
2020
Stranger In This Town
Mercury
848 895-2
CD (Album, Reissue)
UK
-
Stranger In This Town
Mercury
848 895-2, 848895-2
CD (Album)
UK & Europe
-
Stranger In This Town
Island Def Jam Music Group
none
File (MP3, Album, Reissue)
US
-
Stranger In This Town
Mercury
848 895-2
CD (Album, Reissue)
US
-
Stranger In This Town
Mercury
848 895-2
CD (Album, Reissue)
Europe
-
Stranger In This Town
Mercury
848 895-2
CD (Album, Reissue)
US
-
Stranger In This Town
Mercury
848 895-2
CD (Album, Reissue)
US
-
Stranger In This Town
Mercury
848 895-2, 848895-2
CD (Album, Reissue)
UK & Europe
-
Stranger In This Town
Mercury
848 895-2
CD (Album, Repress)
Europe
-
Stranger In This Town
Mercury
848 895-2
CD (Album, Reissue)
Europe
-
Stranger In This Town
Euro Star
ES 792
Cassette (Album, Unofficial Release)
Poland
-
Stranger In This Town
Mercury
848 895-2
CD (Album, Reissue)
US
-
Stranger In This Town
Merkury
848 895-2
CD (Album, Reissue, Unofficial Release)
Bulgaria
-
Stranger In This Town
Mercury
848 895-2
CD (Album, Reissue)
UK & Europe
-
Stranger In This Town
Mercury
848 895-2
CD (Album, Reissue)
Europe
-
Stranger In This Town
Mercury
848 895-2, 848895-2
CD (Album, Repress)
UK & Europe
-
Stranger In This Town
Mercury
848 895-2
CD (Album, Repress)
Europe
-
Kup w