Blaze of Glory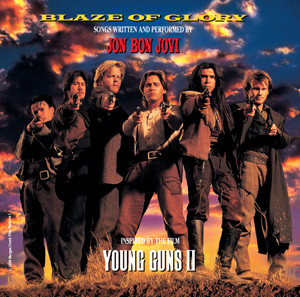 Rok wydania: 1990
Część piosenek pochodziła z filmu, a inne zostały zainspirowane filmem: "Młode strzelby II". Tytułowa piosenka stała się motywem przewodnim, i została nominowana do Oscara. Nagrodzona została Złotym Globem.
Tracklista:
1. Billy Get Your Guns
2. Miracle
3. Blaze Of Glory
4. Blood Money
5. Santa Fe
6. Justice In The Barrel
7. Never Say Die
8. You Really Got Me Now
9. Bang A Drum
10. Dyin' Ain't Much Of A Livin'
11. Guano City
Wydane wersje:
Dane pochodza z serwisu Discogs i mogą być niekompletne.
Okładka
Tytuł
Wydawca i nr kat.
Format
Kraj
Rok wydania
Blaze Of Glory
Mercury
846 473-2
CD (Album)
Australasia
1990
Blaze Of Glory
Mercury
846 473-2
CD (Album)
UK
1990
Blaze Of Glory
PGP RTB
521078
Cassette (Album)
Yugoslavia
1990
Blaze Of Glory
B.W.
245
Cassette (Album, Unofficial Release)
Poland
1990
Blaze Of Glory
Mercury
846473-4
Cassette (Album)
Uruguay
1990
Blaze Of Glory
Mercury
FLO2 846 473-4, 422 846 473-4
Cassette (Album)
US
1990
Blaze Of Glory
Vertigo
0471433, 0471 433, 47 143 3
Vinyl (LP, Album, Club Edition, Stereo)
Europe
1990
Blaze Of Glory
Vertigo
846 473-1
Vinyl (LP, Album, Stereo)
Europe
1990
Blaze Of Glory
PGP RTB
521078
Cassette (Album)
Yugoslavia
1990
Blaze Of Glory
Vertigo
846 473-4
Cassette (Album)
UK
1990
Llamarada De Gloria = Blaze Of Glory
Mercury
843 473-1
Cassette (Album)
Argentina
1990
Blaze Of Glory
Vertigo (3)
none
Cassette (Unofficial Release)
Europe
1990
Blaze Of Glory
Vertigo
846 473-4
Cassette (Album)
Portugal
1990
Blaze Of Glory
Mercury
P2 46473
CD (Album, Club Edition)
Canada
1990
Blaze Of Glory
Mercury
422 846 473-4, 846 473-4
Cassette (Album)
US
1990
Blaze Of Glory
Vertigo
69 644 3, 0696 443
CD (Album, Club Edition)
Germany
1990
Blaze Of Glory
Vertigo
846 473-2
CD (Album)
Europe
1990
Blaze Of Glory
Mercury
422 846 473-4
Cassette (Album)
US
1990
Blaze Of Glory
Vertigo
846 473-4
Cassette (Album, Stereo)
Netherlands
1990
Blaze Of Glory
Vertigo
846 473-4
Cassette ()
Europe
1990
Blaze Of Glory
Vertigo
846 473-1
Vinyl (LP, Album)
France
1990
Blaze Of Glory
Vertigo
846 473-1
Vinyl (LP, Album)
UK
1990
Blaze Of Glory
Vertigo
846 473-2
CD (Album)
Germany
1990
Blaze Of Glory
Vertigo
846 473-2
CD (Album)
Europe
1990
Blaze Of Glory
Sung Eum Limited
846 473-1/SEL-RP 2058
Vinyl (LP, Album)
South Korea
1990
Blaze Of Glory
Gong
HCDL 37475
CD (Album)
Hungary
1990
Blaze Of Glory
Mercury
846 473-1
Vinyl (LP, Album)
Canada
1990
Blaze Of Glory
Mercury
846 473-1
Vinyl (LP, Album)
Australasia
1990
Blaze Of Glory
Vertigo
846 473-1
Vinyl (LP, Album)
Greece
1990
Blaze Of Glory
Mercury
P4 46473, 422 846 473-4
Cassette (Album, Club Edition)
US
1990
Blaze Of Glory
Vertigo
846 473-4
Cassette (Album)
Turkey
1990
Blaze Of Glory
Mercury
LPE 19214, 846 473 1
CD (Album)
Mexico
1990
Blaze Of Glory
PGP RTB
521078
Cassette (Album)
Yugoslavia
1990
Blaze Of Glory
Mercury
846 473-2
CD (Album)
US
1990
Blaze Of Glory
Mercury
846 473-2
CD (Album, Limited Edition)
Australasia
1990
Blaze Of Glory
Vertigo
846 473-1
Vinyl (LP, Album)
Greece
1990
Blaze Of Glory
Not On Label
none
Cassette (Album, Unofficial Release)
Netherlands
1990
Blaze Of Glory
Mercury
846 473-2
CD (Album)
US
1990
Blaze Of Glory
Mercury
846 473-1 DJ
Vinyl (LP, Promo)
US
1990
Blaze Of Glory
Mercury
PHCR-901
CD (Album, Limited Edition)
Japan
1990
Blaze Of Glory
Vertigo
CASS.31025
Cassette (Album)
Ecuador
1990
Blaze Of Glory
Mercury
PHCR-1013
CD (Album, Promo, Sampler)
Japan
1990
Blaze Of Glory
Vertigo
846 473-4
Cassette (Album)
Malaysia
1990
Blaze Of Glory
Mercury
846 473-2, CDEPR 1032
CD (Album)
Mexico
1990
Blaze Of Glory
Mercury
846 473-4
Cassette (Album, Stereo)
Canada
1990
Blaze Of Glory
Mercury
846 473-1
Vinyl (LP, Album)
US
1990
Blaze Of Glory
Mercury
422 846 473-4, 846 473-4
Cassette (Album)
US
1990
Blaze Of Glory
Vertigo
846 473-1
Vinyl (LP, Album, White Label)
Greece
1990
Blaze Of Glory - Inspired By The Film Young Guns II
Mercury
MCE 19214, 846 473-4
Cassette (Album)
Mexico
1990
Blaze Of Glory
Vertigo
STARC 5739
Cassette (Album)
South Africa
1990
Blaze Of Glory
Vertigo
846 473-4
Cassette (Album)
UK
1990
Blaze Of Glory
Mercury
846 473-2
CD (Album, Stereo)
Argentina
1990
Blaze Of Glory
Vertigo
846 473-4, 846473-4
Cassette (Album)
Greece
1990
Blaze Of Glory
Vertigo
846 473-4
Cassette (Album)
Barbados
1990
Blaze Of Glory
Gong
SLPXL37475
Vinyl (LP, Album)
Hungary
1990
Blaze Of Glory
Mercury
846 473-1, 90.140-L
Vinyl (LP, Album)
Venezuela
1990
Blaze Of Glory / Young Guns II
Mercury
846 473-4
Cassette (Album, Club Edition)
US
1990
Blaze Of Glory
Mercury
846 473-2
CD (Album, Club Edition)
US
1990
Blaze Of Glory
Mercury
CDEPR 1032, 846 473-2
CD (Album)
Mexico
1990
Blaze Of Glory
Mercury
R144490
Vinyl (LP, Club Edition)
US
1990
Blaze Of Glory
Mercury
846 473-1
Vinyl (LP, Album, Stereo)
Canada
1990
Blaze Of Glory
Mercury
846 473-1
Vinyl (LP, Album)
Brazil
1990
Blaze Of Glory
Mercury
PHCR-1013
CD (Album)
Japan
1990
Blaze Of Glory
Vertigo
846 473-4
Cassette (Album)
Spain
1990
Blaze Of Glory
PGP RTB
420328
CD (Album)
Yugoslavia
1990
Blaze Of Glory
Gong
MKL 37475
Cassette (Album)
Hungary
1990
Blaze Of Glory
Mercury
PHTR-1013
Cassette (Album, Stereo)
Japan
1990
Blaze Of Glory
Vertigo
846 473-4, 2363
Cassette (Album, Stereo)
Taiwan
1990
Blaze Of Glory = ブレイズ・オブ・グローリー
Mercury
PHTR-1013
Cassette (Album, Promo, Sampler, Stereo)
Japan
1990
Blaze Of Glory
Mercury
846473-4
Cassette (Album)
New Zealand
1990
Blaze Of Glory
Vertigo
846 473-1
Vinyl (LP, Album, Stereo)
Europe
1990
Blaze Of Glory
Mercury
846 473-2
CD (Album)
Brazil
1990
Blaze Of Glory
Vertigo
846 473-2
CD (Album)
US
1990
Blaze Of Glory
Vertigo
846 473-4
Cassette (Album)
1990
Jon Bon Jovi
Vertigo
AL/VRC 32-5, AL/VRC-32-5
Cassette (Album)
Bolivia
1990
Blaze Of Glory
PolyGram
none
Box Set (Limited Edition, Promo)
US
1990
Blaze Of Glory
Mercury
185364, 846473-4
Cassette (Album, Stereo)
Chile
1990
Blaze Of Glory
Vertigo
846 473-2
CD (Album)
Europe
1990
Blaze Of Glory
Vertigo
846 473-4
Cassette (Album)
Philippines
1990
Blaze Of Glory
Mercury
422 846 473-4, 846 473-4
Cassette (Album)
US
1990
Blaze Of Glory
Vertigo
LP-31025
Vinyl (LP, Album)
Ecuador
1990
Blaze Of Glory
Vertigo
846 473-4
Cassette (Album)
Indonesia
1990
Blaze Of Glory
DVC
90268
Cassette (Album, Unofficial Release)
Poland
1990
Blaze Of Glory
Vertigo
846473-2
Vinyl (LP)
Guatemala
1990
Blaze Of Glory
Mercury
846 473-2, CDEPR 1032
CD (Album)
Mexico
1990
Blaze Of Glory / Young Guns II
Music Market (2)
0064
Cassette (Album, Unofficial Release)
Poland
1990
Llamarada De Gloria (Blaze Of Glory)
Mercury
846 473-1
Vinyl (LP, Album)
Argentina
1990
Blaze Of Glory
Mercury
846 473-2
CD (Album)
Canada
1990
Blaze Of Glory
Mercury
846 473-2
CD (Album, Club Edition)
US
1990
Blaze Of Glory
Vertigo
STARL5739
Vinyl (LP, Album)
South Africa
1990
Blaze Of Glory
Mercury
LPE-19214
Vinyl (LP, Album)
Mexico
1990
Blaze Of Glory
Mercury
P2 46473
CD (Album, Club Edition)
US
1990
Blaze Of Glory
Popron
50 028-1, 50028-1, 846 473-1
Vinyl (LP, Album)
Czechoslovakia
1990
Blaze Of Glory
Mercury
846 473-1
Vinyl (LP, Album)
Portugal
1990
Blaze Of Glory
Vertigo
8464731
Vinyl (LP, Album)
Colombia
1990
Blaze Of Glory
Vertigo
846 473-4
Cassette (Album)
Europe
1990
Blaze Of Glory
Mercury
846 473-4
Cassette (Album)
Brazil
1990
Blaze Of Glory
Vertigo
846 473-1
Vinyl (LP, Album, Stereo)
Spain
1990
Blaze Of Glory
PGP RTB
221449
Vinyl (LP, Album)
Yugoslavia
1990
Blaze Of Glory
Mercury
846 473-2
CD (Album)
US
1990
Kup w