100,000,000 Bon Jovi Fans Can't Be Wrong – The Premiere Collection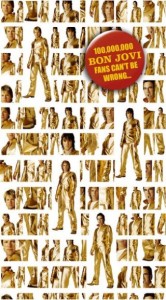 Data wydania:  22 listopada 2004
Boxset składał się z 4 płyt CD oraz jednej płyty DVD. Zawierał książeczkę z wieloma informacjami na temat wydawnictwa, historii zespołu itp. Boxset został wydany jako podsumowanie 20 lecia działalności grupy.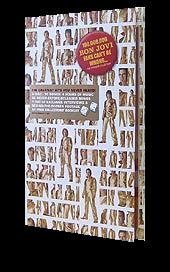 Zawartość:
CD 1
1. Why Aren't You Dead?
2. The Radio Saved My Life Tonight
3. Taking It Back
4. Someday I'll Be Saturday Night (demo)
5. Miss Fourth Of July
6. Open All Night
7. These Arms Are Open All Night
8. I Get A Rush
9. Someday Just Might Be Tonight
10. Thief Of Hearts
11. Last Man Standing
12. I Just Want To Be Your Man
CD 2
1. Garageland
2. Starting All Over Again
3. Maybe Someday
4. Last Chance Train
5. The Fire Inside
6. Every Beat Of My Heart
7. Rich Man Living In A Poor Man's House
8. The One That Got Away
9. You Can Sleep While I Dream
10. Outlaws Of Love
11. Good Guys Don't Always Wear White
12. We Rule The Night
CD 3
1. Edge Of A Broken Heart
2. Sympathy
3. Only In My Dreams (Tico Torres on Vocals)
4. Shut Up And Kiss Me
5. Crazy Love
6. Lonely At The Top
7. Ordinary People
8. Flesh And Bone
9. Satellite
10. If I Can't Have Your Love (Richie Sambora on Vocals)
11. Real Life
12. Memphis Lives In Me (David Bryan on Vocals)
13. Too Much Of A Good Thing
CD 4
1. Love Ain't Nothing But A Four Letter Word
2. Love Ain't Nothing But A Four Letter Word (demo)
3. River Runs Dry
4. Always (Original Demo)
5. Kidnap An Angel
6. Breathe
7. Out Of Bounds
8. Letter To A Friend
9. Temptation
10. Gotta Have A Reason
11. All I Wanna Do Is You
12. Billy
13. Nobody's Hero
DVD:
– nagrane przez zespół opisy piosenek z wydawnictwa (mówią o nich, siedząc w studiu)
– fragmenty filmu dokumentalnego "Access All Areas"
– materiał, który wcześniej nie był nigdzie dostępny
– galerię zdjęć
– bonusowe sceny, tzw. "Easter Eggs"
Edycja japońska zawierała 5 płyt CD. Płyta piąta była dołączona w kartonowym pudełku na zewnątrz opakowania. Była to promocyjna "Japan Exclusive CD" z najlepszymi B-side'ami i demami. Jako gratis dołączono także zestaw pocztówek.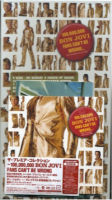 CD 5:
1. With A Little Help From My Friends Live
2. Love Is War
3. Borderline
4. Hush
5. I Wish Everyday Could Be Like Christmas
6. Save A Prayer
7. Fields of Fire
8. Another Reason To Believe
9. Let's Make it Baby
10. The End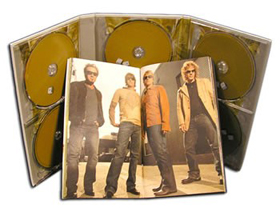 Wydane single:

"Radio Saved My Life Tonight" – wydane promocyjne.
Wydano tylko w Japonii.
Wydane wersje:
Dane pochodza z serwisu Discogs i mogą być niekompletne.
Okładka
Tytuł
Wydawca i nr kat.
Format
Kraj
Rok wydania
100,000,000 Bon Jovi Fans Can't Be Wrong (The Premiere Collection)
Island Records
UICL-7001
CD (Compilation)
Japan
2004
100,000,000 Bon Jovi Fans Can't Be Wrong (The Premiere Collection)
Island Records
0602498647769
CD (Compilation)
Europe
2004
100,000,000 Bon Jovi Fans Can't Be Wrong (The Premiere Collection)
Island Records
B0003543-00
CD (Compilation)
US
2004
100,000,000 Bon Jovi Fans Can't Be Wrong
Island Records
0602498647769, 64 776 9
CD (Compilation)
Europe
2004
100,000,000 Bon Jovi Fans Can't Be Wrong (The Premiere Collection)
Island Records
0602498647769
CD (Compilation)
Europe
2004
100,000,000 Bon Jovi Fans Can't Be Wrong (The Premiere Collection)
Island Records
B0003543-00
CD (Compilation)
UK, Europe & US
2004
100,000,000 Bon Jovi Fans Can't Be Wrong (The Premiere Collection)
Island Records
0602498647769
Box Set (Compilation)
UK & Europe
2004
100,000,000 Bon Jovi Fans Can't Be Wrong (The Premiere Collection)
Island Records
B0003543-00
CD (Compilation)
UK, Europe & US
2004
100,000,000 Bon Jovi Fans Can't Be Wrong (The Premiere Collection)
Not On Label (Bon Jovi)
none
CD (Compilation, Unofficial Release)
China
-
Kup w